Travel news from museums specializing in maritime history, such as Mystic Seaport and the Maritime Museum of San Diego. Send your news releases about your maritime museum's activities to This email address is being protected from spambots. You need JavaScript enabled to view it. .
Published on Thursday, 14 April 2011 08:45
Hits: 681
I became a maritime museum curator at the age of five, when I nailed a sign to a tree in front of our house in Cape Cod, Mass., inviting neighbors to see my collection of ship models and hand-drawn charts. Forty eight years later, I am still the curator of a home-made maritime museum, now in Seattle, Wash. This time, my museum is on the Internet and my visitors come from around the world.
The Lake Union Virtual Museum is a multimedia website about a body of water in Seattle that has been a mecca for boatbuilding, seaplanes, competitive rowing and other maritime activities for generations. The website uses text, images, oral history and video to tell stories about the lake's past.
Dick Wagner of Seattle's Center for Wooden Boats discusses Lake Union in this video from the Lake Union Virtual Museum.
I began this project in 2008 as a thesis for a masters program in digital media at the University of Washington. My basic idea was to find Lake Union people who had stories I could record and old photos I could digitize, and use these to build a website that would look and feel like a real museum.
The museum grew quickly and now features seven exhibits about various aspects of the lake, including boat building, houseboats, rowing, Gasworks Park, the lake's Native American heritage, and its role in Seattle's first world's fair of 1909. One of my most recent exhibits, about seaplanes, has attracted nearly 100,000 visitors – many of them from Czechoslovakia! – since it went online just a few months ago.
I call Lake Union Virtual Museum a "bicycle-powered, no-budget" project, because I use my bicycle to get around the lake, shooting pictures and interviewing people, and I have funded the project mostly out of my wages as a teacher at the Art Institute of Seattle. In 2009, however, I received a grant from King County 4Culture, and am pursuing more grants to help me continue the project. In the mean time, I am as giddy as a five-year old to be able to meld maritime tradition with digital technology, share local history globally, and nail my sign to a tree that branches all over the world.
My hope is that people will discover Lake Union's history through websites like mine, then get up from their computer, hop on a bike or grab a paddle or a boat-building tool, and become part of the Lake Union story themselves.
Are you curator of a virtual maritime museum? Tell us your story by emailing This email address is being protected from spambots. You need JavaScript enabled to view it. .
Add a comment
Published on Monday, 07 March 2011 08:58
Written by Center for Wooden Boats
Hits: 872
Editors note: A photograph of the tall ship Lady Washington by Michael Berman, one of the artists listed below, appears on the cover of The Fyddeye Guide to America's Maritime History.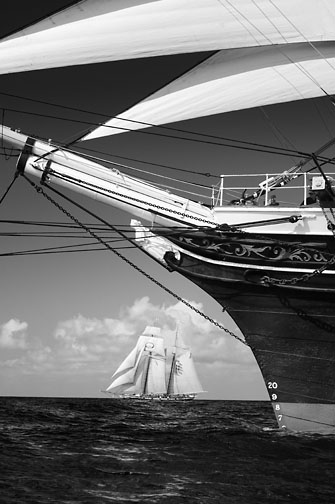 The Center for Wooden Boats in Seattle has announced three artists who have been invited for solo shows in 2011.
Hannah Vianno - Jan. 18 through April 15
Hannah, who has lived and worked around boats her entire life, will show a collection of new work in papercuts. They are dramatic black images cut from a single sheet of paper - drawn from boat trips and beach wanders she has done over the last few months. Papercuts are an exciting and new medium for Hannah, as she is drawn to the stark contrast that makes even simple lines bold and engaging. She feels that the act of carving the pictures out of paper gives itself perfectly to the flowing shapes of wood and water. Exhibit currently open at CWB Boathouse.
Robin Siegl – May 17 through Sept. 11
For a decade, Robin has observed the working waterfront from a small rowboat. She says, "As my arms pull the skiff slowly through the water, my eyes see a series of paintings in the hard edged bulk of the ships and barges that confront me. The drawings and oil paintings I then make in my studio are inspired by those powerful images; they emphasize the inevitable stages of decay. Massive hulls appear to penetrate deep into the wiggly water; heavily marked surfaces and strong forms are reflected on the surface. Over a long period of time, only the water survives; what is man-made goes away." Exhibit opening: May 20th, 7 p.m., CWB Boathouse
Michael Berman – Sept. 13 through Jan. 15, 2012
Michael will present, Open Ocean: A Voyage Across the Atlantic, a series of large scale panoramic and multi-panel photographs that place the viewer on the deck of a small boat, sailing across the vast Atlantic Ocean. The viewer moves with the boat, at water level, up and down the waves, "feeling" the motion and always gazing at the sea and sky, taking in the wilderness of the ocean, observing the constantly changing view. Many sailors dream of making blue water, offshore passages, so in addition to discussing the exhibit images during his artist's talk and slide show, Michael will share his sailing adventure by including images from the trip and talking about the experience of making a 16-day transatlantic passage. Exhibit opening: September 16th, 7 p.m., CWB Boathouse
The mission of the Center for Wooden Boats is to provide a gathering place where maritime history comes alive through direct experience and our small craft heritage is enjoyed, preserved and passed along to future generations. The Boathouse Gallery is dedicated to exhibiting art and history that relates to, complements, or challenges this mission through subject, media or craft. The three artists chosen for 2011 are very different in their approach to this theme, their medium used, and the background and experience they bring to their work.
For more information please contact Erin Schiedler, Communications Coordinator for The Center for Wooden Boats at This email address is being protected from spambots. You need JavaScript enabled to view it. . Additional information about CWB can be found online at www.cwb.org.
Does your museum or historic site have a gallery space? Send your exhibit announcements to This email address is being protected from spambots. You need JavaScript enabled to view it. .
Add a comment
Published on Tuesday, 22 February 2011 09:04
Written by Maritime Museum of San Diego
Hits: 919
UPDATE: The run of the Three Voyages to Paradise exhibit has been extended to July 31, 2012. Exhibit hours are 11 a.m. to 3 p.m. daily.
San Diego — The Maritime Museum of San Diego is bringing history and discovery to life with two groundbreaking initiatives in 2011. In May, the maritime museum will launch an exhibit showcasing art associated with the three distinct visions of the beautiful South Pacific from voyages by James Cook, Herman Melville and Paul Gauguin.
The first-of-its kind exhibit for the maritime museum titled Three Voyages to Paradise: Cook, Melville and Gauguin will feature over 110 pieces, varying from original oil and watercolor paintings to wood carvings and sculpture. The exhibit will include original paintings by 18th century artists John Webber and William Hodges, each of whom accompanied Cook into the Pacific, and many original works by Paul Gauguin, showcasing a newly rediscovered wood sculpture, Nave Nave Faruru. The previously unknown Gauguin work was discovered in Tahiti by Dr. Richard Kelton of The Kelton Foundation and recently exhibited at the Taipei Fine Arts Museum in Taiwan.
"Never before has the maritime museum attempted an undertaking of this magnitude and influence," said Ray Ashley, the museum's CEO and president. "We are extremely grateful to The Kelton Foundation for assisting us in creating this exhibition and providing this collection of timeless pieces."
The free-standing Three Voyages to Paradise exhibit seeks to illustrate the diverse experiences of these three icons of South Sea exploration. The exhibition, presented by the Maritime Museum of San Diego and drawn from the extensive collections of The Kelton Foundation, runs from May 27, 2011, through January 1, 2012. (See update above.) Tickets for Three Voyages to Paradise will be $10 plus the cost of museum admission.
The Maritime Museum of San Diego is also undertaking the construction of a new replica tall ship in 2011. Construction begins this month on a full-sized, historically accurate replica of San Salvador, the flagship of Juan Rodriguez Cabrillo's 1542 voyage of discovery to San Diego.
When the construction site opens in April visitors will be able to view the ships construction up close and enjoy displays showcasing 16th century life. The living history displays will include pottery, basket weaving, rope making and knot tying demonstrations; a working blacksmith; an active Kumeyaay village; and living historical reenactments. Construction of the 16th century San Salvador replica is expected to be completed by early 2013, at which time it will join the museum's collection of historic ships, including the world's oldest active ship, the Star of India.
"This is going to be such an exciting year for us," Ashley said. "Through both of these historically significant exhibitions, we are creating a compelling platform for education at the maritime museum unlike any we have had before."
More information on both 2011 initiatives will soon be available at www.sdmaritime.org.
Add a comment
Published on Friday, 19 November 2010 14:04
Written by Fyddeye Administrator
Hits: 566
The History of Diving Museum in Islamorada, Fla. has been awarded a $74,000 grant by the Monroe County Tourist Development Council to create a world-class research library, according to the museum's Fall 2010 newsletter.
The project will improve the interior of the current library and enhance the capabilities of the space, now serving as a meeting room. The grant will allow the museum to purchase archival quality bookshelves, document storage drawers and cabinets, a fire suppression system, lighting fixtures, an art hanging system, movable walls, and new furnishings.
Technological improvements will include teleconferencing capabilities, wireless internet, and audio-visual equipment to make it a more useful and marketable space for business meeting and events. The project will begin in October 2010 and will be completed in September 2011.
"The History of Diving Museum is constantly improving and updating its facilities and exhibits," the newsletter says. "We urge our guests to visit the museum frequently to take advantage of our ongoing growth and development!"
The History of Diving Museum tells the international story of mankind's attempts to explore, understand and venture under the sea.
Send your This email address is being protected from spambots. You need JavaScript enabled to view it. to Fyddeye.
Add a comment
Published on Wednesday, 03 November 2010 08:22
Written by Maritime Museum of San Diego
Hits: 623
San Diego—With the 2010/2011 whale watching season commencing mid-December, the famous sailing schooner America has announced what is typically unheard of in this industry: a "No Seasickness Guarantee." Operating from the Maritime Museum of San Diego, the America conducts daily whale and dolphin-watching sailing trips to as far out as 12 miles on the ocean during the four-month viewing season from December 11 to April 17.
To offer such a guarantee is very comforting for folks interested in seeing the whale migration, but have been reluctant because of the traditional motion sickness issues.
"Ask any boater who has sat in a fishing boat or typical whale watching vessel anywhere in the world and they'll tell you that motion sickness is very common, and very unwelcome," says Warren Allan, Director of Sales & Marketing for Dennis Conner's famous yacht.
"What we bring to the industry is a very large, low profile sailing vessel upon which the typical seasick motion is reduced considerably by the huge underwater keel," Allan says. The 11-foot deep keel is there to counterbalance the wind in the sails, he adds. Without the keel a sailing yacht would tip over.
Add a comment
Read more: Maritime museum and schooner promise 'no lost lunches' on whale-watching trips